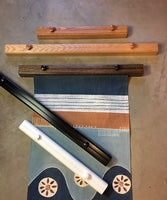 Rug and Quilt Hangers for your valued textiles.
Art In A Pinch quilt and rug hangers for the wall attractively displays your textile with firm support by using compression.  A safe way to display and protect your valued textile.
Display your quilts, rugs, tapestries, textiles, Navajo Rugs, blankets, silk rugs, and much more. 
We offer several hanger styles and finishes.
Art In A Pinch has been making quality handmade wood hangers for the wall in Minnesota since 1990.
Display your quilt or rug quickly, conveniently and safely on the wall.
Simply place the edge of your textile between the two rails and tighten the knobs or screws. The knobs / screws are placed above the quilt so they will not puncture your textile. There are plenty of knobs to support even a heavy rug. Thick textiles may require our long knobs or screws, ordered separately. The keyhole slots on the back make displaying on a wall easy.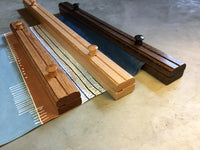 We have several quilt hanger options to choose from
If you are looking for something different, please feel free to contact us.

Art In A Pinch is a small business that specializes in quality hangers for quilts and rugs.
Order online today or call us at 218-675-5374.  Choose your hanger style from our various product collections at the top or bottom of this page or click on one of these links: 

Check out our new Gallery page where we have many new photos provided by our customers that show a variety of textiles. 
Does hanging your textile require any additional items? Check out our FAQ section and the listing description for more help.
Examples of what you can use our compression hangers for:
Quilts | Quilt Art | Navajo Rugs | Persian Rugs | Weavings | Tapestries | Asian Rugs | Hooked Rugs | Kilims | Afghan Throws | Pendleton Blankets | Table Runners | Banners | Paraments | Textiles | Serapes | Saddle Blankets |
Original Rug Hanger

93" Dark Walnut Stained Oak
Original Rug Hanger

72" Medium Stained Oak
Original Quilt Hanger

84" Dark Walnut Stained Oak
Original Quilt Hanger

45" Satin Black
Original Quilt Hanger

36" Medium Stained Oak
Original Rug Hanger
93" Dark Walnut Stained Oak
Original Rug Hanger
72" Medium Stained Oak
Original Quilt Hanger
84" Dark Walnut Stained Oak
Original Quilt Hanger
45" Satin Black
Original Quilt Hanger
36" Medium Stained Oak