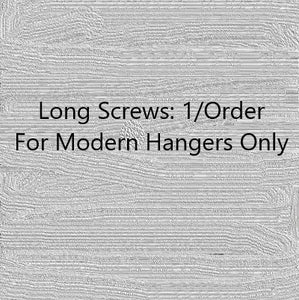 Long screws for Modern Style Hangers for thick textiles. For hanging textiles with compressed thicknesses of over 3/8 inch & up to 3/4 inch.
All Modern Hanger come with standard screws.  The long screws are purchased as an addition.
Sold as 1 screw/order.
Adjust Quantity for the number of screws you need (see chart below to determine how many knobs are on your hanger size). 
| | |
| --- | --- |
| Size | # of Screws per Hanger |
| 18-36" Modern | 2 |
| 37-65"  Modern | 3 |
| 66-89" Modern | 4 |
| 90-96" Modern | 5 |